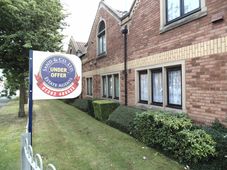 Sales Services
Our sales team are driven by a true passion for property & personal customer care. Wether it be a town or country property, we have years of combined experience in buying and selling homes meaning that Sand and Co can give you all the guidance you need to secure that all important sale.
Sell Smart with Sand & Co

We are the Estate Agents with nothing to hide
here are our fees
Special Offer 1
Sell any sized residential property
With us for a flat Fee of only!!!!

£790

to be paid upfront

Special Offer 2
.95% of the final sale price, payable on completion
All prices are subject to VAT
Free Valuations Our experienced Director who has a true passion in property will view your property and offer guidance and assistance to ensure you secure the best price for your property whatever the current market conditions. No two homes are the same and each individual home will have its own unique features and selling points. It's our job to focus our attentions on these features and point them out to potential purchasers either locally, nationally or internationally. We will value your home fairly and accurately. It is not our intention to raise expectations unrealistically, this will only cause problems down the line, nor do we undervalue to gain a swift sale. Put simply we offer good sound advice and aim to sell your home quickly but at the same time achieving the best possible price.
Accompanied Viewings Whether the property is owner occupied or empty we will be happy to carry out accompanied viewings with prospective purchasers. Internal viewings are key to gaining that all important sale. If you employ us to carry out viewings on your behalf we can take an unbiased approach to selling your home and point out all its best features and selling points.
Marketing Material Producing top quality marketing material is the gateway to getting your property seen by potential purchasers. At Sand and Co our aim is to provide positive and illustrative colour brochures which portray your property in its best possible light and encouraging people to book an internal viewing. These same brochures are imitated on our own website as well as national websites and include quality photographs, floor plans and location maps where needed. As well as this we always recommend that a for sale board is erected at the property, people still drive around looking for properties that are for sale and if you don't have a for sale board outside your house you may miss this marketing opportunity. Internet advertising has become essential – the amount of people looking for properties to buy or rent online is phenomenal! Our company advertises on all the major sites including
Energy Performance Certificate - £75.00 plus VAT Any property being offered to the rental/for sale market now requires an Energy Performance Certificate. The EPC is shown to any potential tenant/buyer prior to entering into any agreement, it allows both landlord/seller and tenant/purchaser the opportunity to see how energy efficient a property is. At Sand and Co Limited we are able to arrange for an EPC to be carried out on your behalf.
Sales Advise Has your property been on the market for some time with another Agent with little or no interest? Then it may be time for a change! At Sand and Co we are determined to work with you to help you present your property to the best of its potential and help you iron out any factors which may be stopping you selling. A fresh approach to selling your property could be all it takes to get you moving! Please note that an up front fee of £200 will be requested. This fee is non returnable should the property not sell however will be deducted from the invoice on sucessful completion of the sale.

Feedback and Regular Contact Communication is vital when buying or selling a property, so any hiccups can occur when communication breaks down. Our aim is to keep the chain of communication open at all times ensuring all parties are as fully informed as can be.
Where possible we try to speak to everyone who has viewed a property and report back our findings to the vendor. It can sometimes be difficult to hear viewer feedback but gaining it is important as sometimes it can be used to improve the presentation or marketing of the property. Of course it is not always possible to gain feedback but rest assured this is frustrating for you as it is for us.
Once a sale has been agreed we make regular contact with Solicitors and other Agents involved in chains to try and make sure the sale progresses as smoothly as possible. We will always report back to you our findings and where possible help you with any paperwork that Solicitors may need or help you fill in any forms that they require.
Selling an Investment Property
The past few years have seen a huge increase in people buying properties to let and this has developed a niche market for landlords wishing to sell their properties as investments.
When you are a landlord you have the option of either selling your investment with vacant possession or you could sell the property as an investment to another landlord. We believe that the current investment market is as active, if not more so than the owner occupier market.
We always have investment or tenanted properties for sale - if this is something you are interested in then please contact the office.
Enquire about our Sales services